Community leaders and organizations in the area are reacting to the transphobic and homophobic statements made on social media by Brother Kenick El, a member of the Virginia Beach Human Rights Commission, a week after he voted in favor of a ban on conversion therapy.
In a series of posts and comments on Facebook, Kenick El described homosexuality as an "abomination to the Human Race" and a "mental illness" after sharing a debunked story about a transgender woman being convicted of assault of a minor female in a bathroom. Part of his initial posting stated the following:
"This is why we need to stop giving men in dresses passes. I have daughters and I won't accept them sharing a restroom with a grown man suffering from this mental illness. Men trying to be women and women trying to be men is really confusing our children and I'm tired of seeing this nonsense promoted to our children."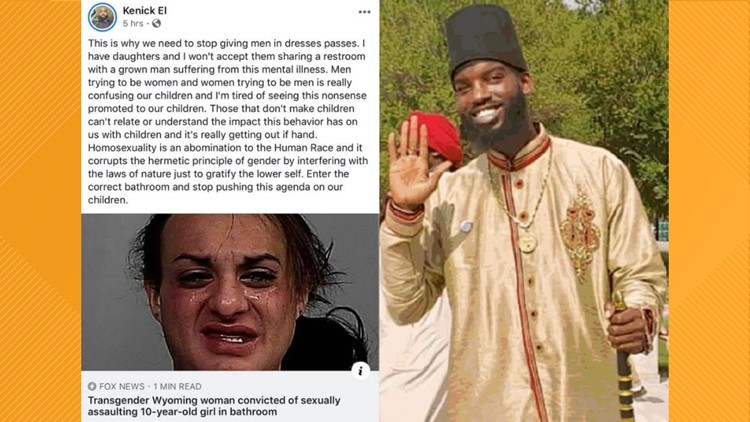 Reaction to his posts have been both supportive, yet many in the LGBTQ and allied communities challenged his comments, causing El to follow up with the following statements:
"Homosexuality is a mental illness and should be treated as such."
"Homosexuality is an abomination to the Human Race and it corrupts the hermetic principle of gender by interfering with the laws of nature just to gratify the lower self."
Reactions from leaders and organizations in Hampton Roads thus far have uniformly condemned his remarks, with some calling for El's resignation from the Virginia Beach Human Rights Commission. In a post on El's Facebook page, former Virginia Beach City Councilman David Nygaard called for El to resign writing that "you have the right to have contempt toward the LGBTQ community but it is a disgrace for you to sit on the Human Rights Commission while carrying contempt toward one of the communities you, as a commissioner, are tasked to defend. It's time for you to resign your seat sir. It would be the honorable thing for you to do. I publicly request you resign."
Additionally, the LGBT Life Center issued a statement condemning El's words, called for his resignation and further diversity training. Part of their statement included the following:
"Kenrick El's statements do not promote "mutual understanding and respect among citizens, and the fulfillment of human rights," as the commission is entrusted and sanctioned to do. Therefore, we are calling on the commission to remove Kenrick El from VBHRC. We believe this is the most appropriate method to restore faith and legitimacy to the commission, and is a reasonable response to the defamatory comments of commissioner Kenrick El." You may read the full statement from the LGBT Life Center in the link below.
Virginia Beach City Councilman Michael Berlucchi, who used to serve on the Virginia Beach Human Rights Commission and is the only openly gay elected City Councilman, shared the following with OutWire757:
"The comments made by a member of our City's Human Rights Commission have hurt my heart. I was saddened and disappointed to learn about them. I served on the Human Rights Commission for four years prior to becoming a member of our City Council. The Virginia Beach Human Rights Commission was founded to institute, conduct and engage in educational and informational programs for the promotion of mutual understanding and respect among citizens, and the fulfillment of human rights. It is my hope that every member of the Human Rights Commission would commit to uphold that mission when they accept the appointment. I am currently speaking with my colleagues at City Council, the Human Rights Commission, and members of our community to resolve this matter quickly."
The Board of Directors of Hampton Roads Pride sent a letter to Virginia Beach Mayor Robert M. Dyer on Tuesday condemning El's remarks, yet called short of asking for El's resignation/removal from the Commission. In the letter, the Board of Directors of Hampton Roads Pride asked the Mayor for the following:
An evaluation of the vetting process for all City appointees to Boards and Commissions be conducted as soon as practicable resulting in a public report of recommendations for any identified changes to the process;
All appointees of City Council be required to complete inclusion and diversity trainin from a well-trained and well-reputed source
The Human Rights Commission (HRC) engage with members of the LGBT and allied communities in public discussion and in alignment with the work of the HRC to "work toward mutual understanding, respect of all citizens and advocacy of human rights for all people."
You may read the full letter to Mayor Dyer from the Board of Directors of Hampton Roads Pride HERE.
Additionally, the Hampton Roads LGBTQAI Interfaith Group have also sent a letter to Mayor Dyer and the Virginia Beach City Council regarding El's remarks and calling for his removal from the Commission, stating in part that,
"We believe that the statements and opinions expressed by Commissioner El, personal or not, if left unchecked without consequence will contribute to and foster a climate of folks in our LGBT+ community feeling unsafe and unable to trust in our elected and appointed leaders. As people of faith we do not believe that 1st Amendment Rights nor "freedom of religion" give anyone the right to discriminate in such hurtful and harmful ways as the comments expressed by Commissioner El. Therefore, we call for the immediate resignation of Commissioner El from the VBHRC and/or upon you, as our elected and trusted Virginia Beach City leaders, to remove Mr. El from the Commission."
In another letter to Mayor Dyer, the Transgender Assistance Program of Virginia (TAP-VA) called for his removal from the Commission, highlighting the violence that transgender women of color face, stating that,
"El's outdated, ignorant, and hateful views are unacceptable and create fear in the Transgender community at a time when trans women of color are being murdered at an alarming rate, and trans people are not protected from discrimination in employment, housing, and public accommodations in Virginia. At the end of the day, El's comments negate everything Virginia Beach is trying to achieve as a safe and welcoming place to live and work." You may read TAP-VA's entire letter HERE.
Hampton Roads Business Outreach (HRBOR), our area's LGBTQ chamber of commerce, has also joined a growing chorus of community voices calling for the resignation/removal of Kenick El, stating,
"No person should serve on a human rights commission who does not value the existence and validity of all people. Mr. El's lack of respect and dignity towards gay and transgender people is counter to the mission of VBHRC. It is impossible for the VBHRC to achieve its mission while allowing one of its members to denigrate a part of the community it exists to serve."
Joshua Hillman of Virginia Beach has created a petition on Change.org to have Kenick El removed from his position on the VBHRC. You may sign the petition HERE.
Stay tuned – OutWire757 will provide updates to this story as it develops.